Shopping Cart
Your Cart is Empty
There was an error with PayPal
Click here to try again
Thank you for your business!
You should be receiving an order confirmation from Paypal shortly.
Exit Shopping Cart
The Fun New Cat Book for Cat Lovers:
Great news! The fully-illustrated version of my special new e-book, 
In Defense of Cats!,
is now available! Previously a text-only version was published with just a few opening illustrations. I give my deep thanks and sincere gratitude to the illustrator, my artistic mother Rose, and to my brother, David, who enhanced the illustrations for digital publishing with special colors and light effects.
Since the main character, Sir William the Cat, is British, I have also published the book in British English as
In Defence of Cats!
While Sir William is named after William Shakespeare, we did not yet go so far as to publish it in
Early Modern English
.
Please feel free to follow the author and her cat character on Twitter at: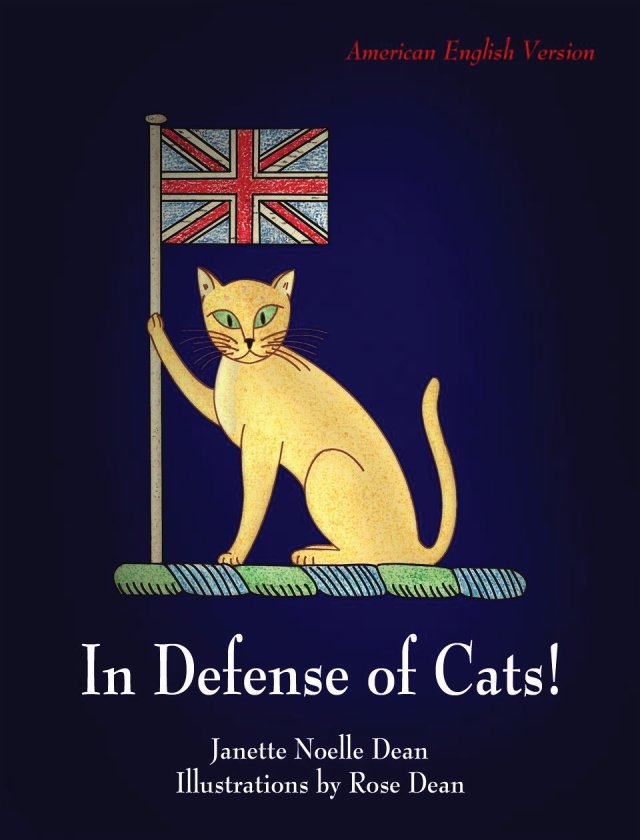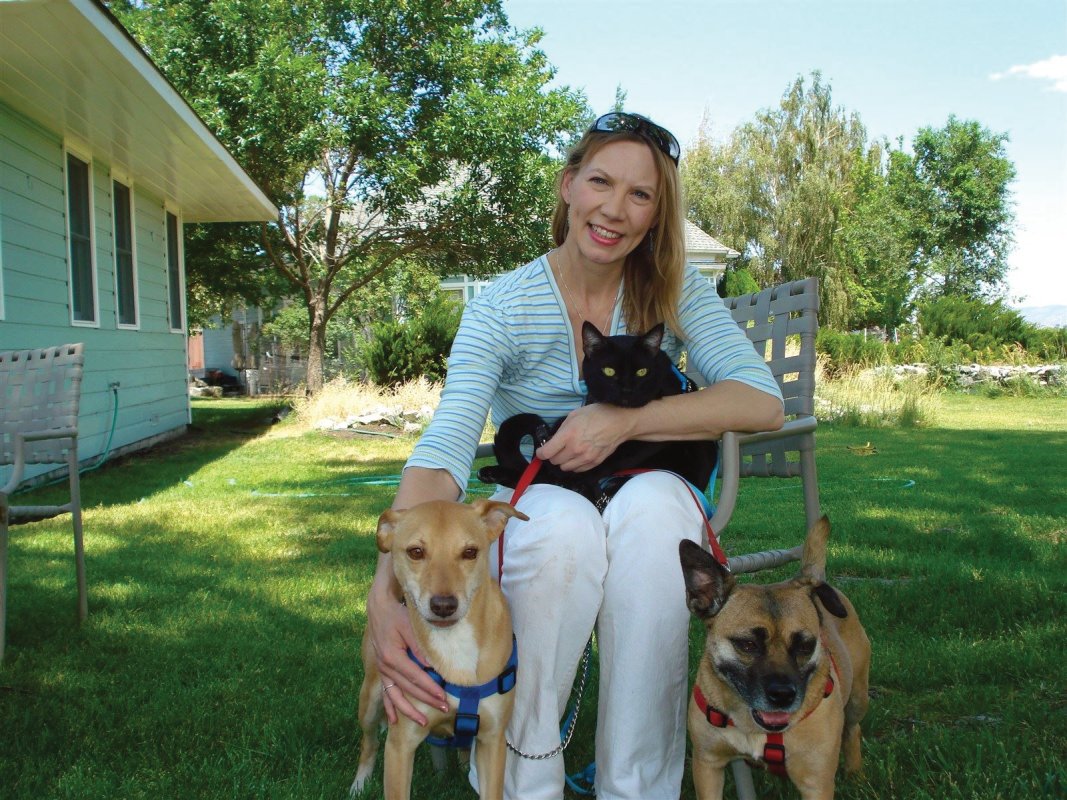 Glad I have my special cat, Tristan Jinx, and my two wonderful dogs Finnan and Keira shown in this summertime picture. It seems appropriate and right to me to honor cats on National Cat Day which is October 29. Cats are some of the funnest members of our families after all -- they sure love to play with us and without us! Check out these short clips of cats in our lives at
USA Today's article "National Cat Day in 19 GIFs"
!
These are the special American days for all pets:
NATIONAL PET DAY = APRIL 11
NATIONAL DOG DAY = AUGUST 26
NATIONAL CAT DAY = OCTOBER 29
Beloved Cat, Magic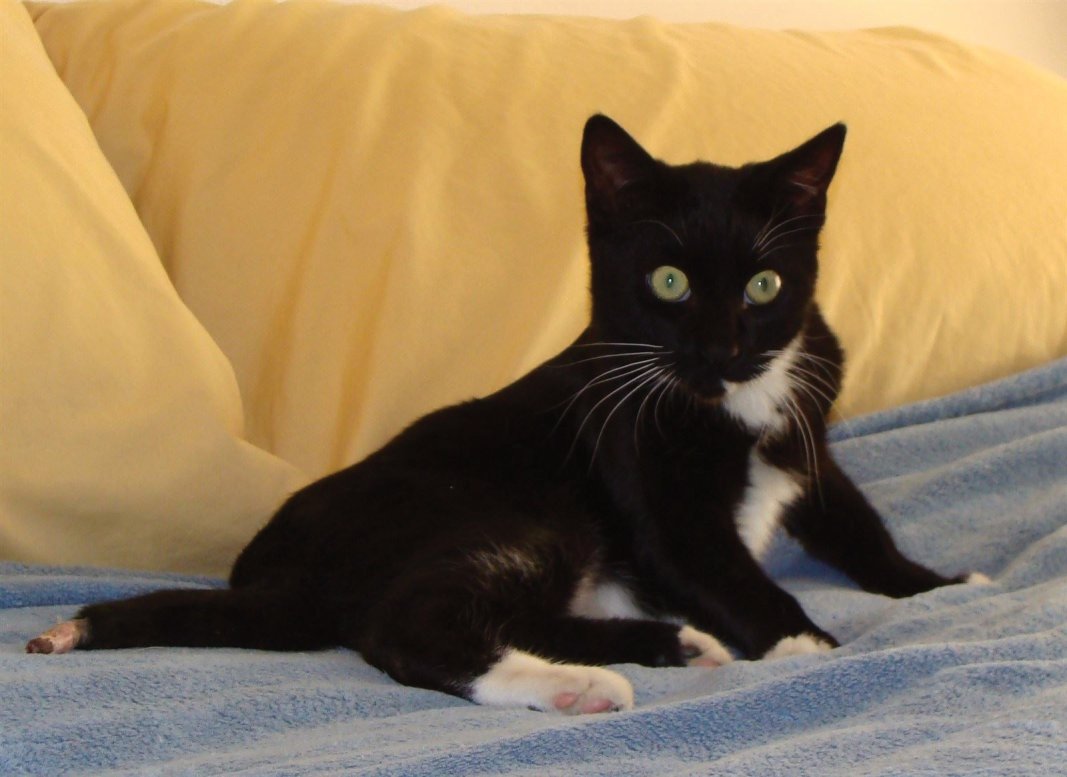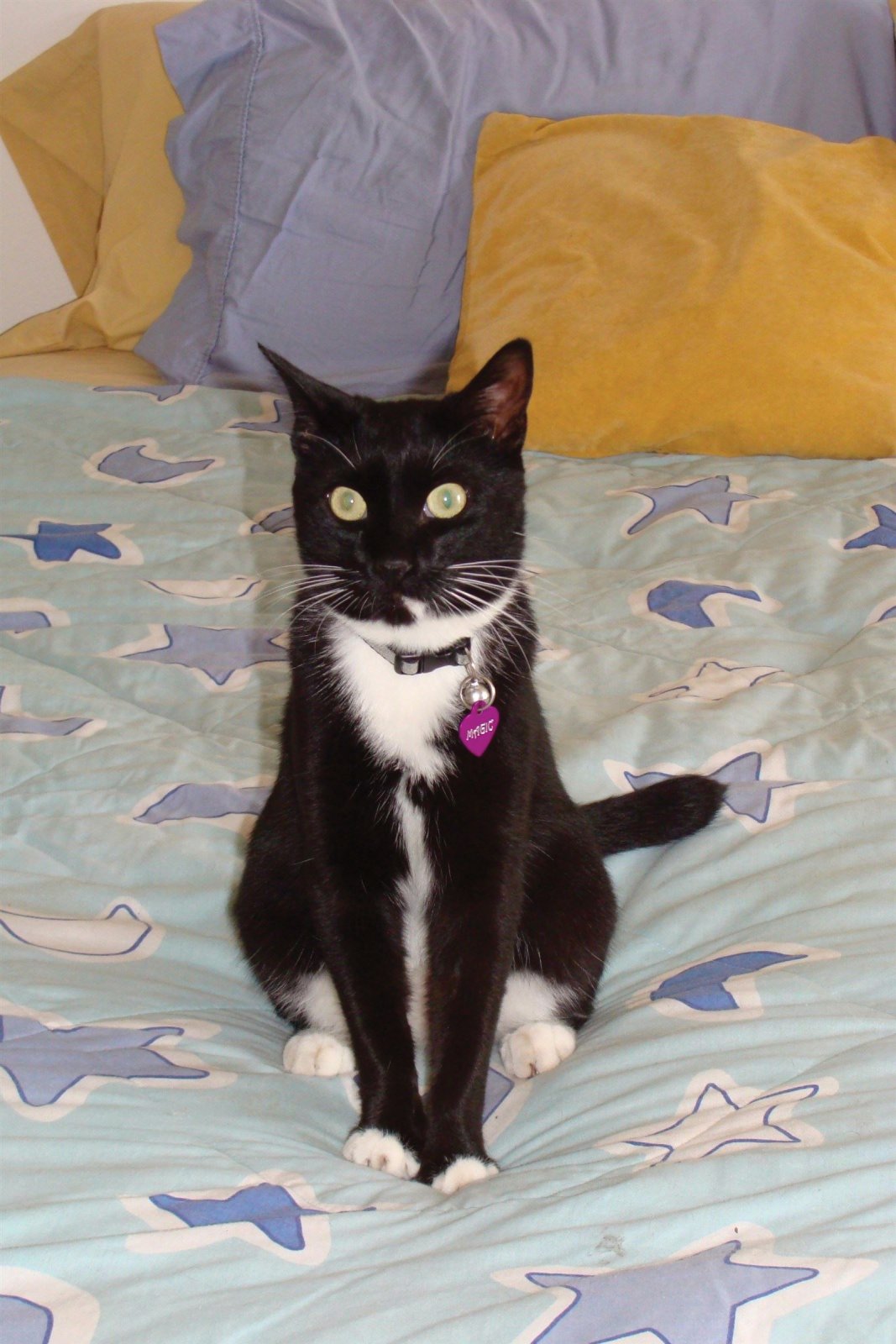 My beloved young cat, Magic, passed on in mid-August 2012. I had adopted him as a feral stray in
October 2011
.  He was such a fun and social cat who loved my two dogs and his new life in Carson City (and inspired my
later tribute to all cats
in his memory).  Much as I tried, Magic would not remain in the house and snuck out fast-as-lightning whenever the dogs were let out or when I went out.  At first, he would stay in the fenced yard with the dogs.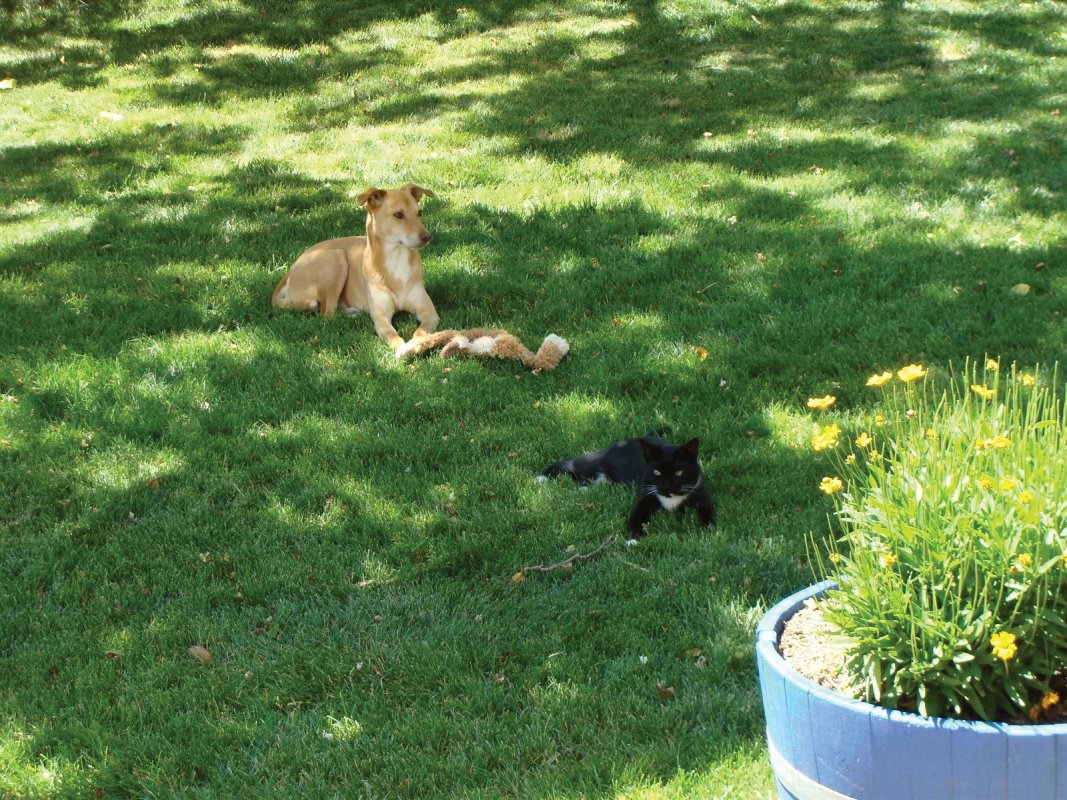 With time however, Magic was soon up on the wooden side fence enjoying his new catwalk. Then, he began starting to walk up the driveway to greet neighbors out walking their dogs who were amazed at his friendliness toward them and their dogs.  I worried, though, that he would get hit by a car or taken by a coyote with his new roamings so I worked hard to keep him inside.  Unfortunately, he got out again and surprisingly snuck under the wrought iron gate in my wonderful next-door neighbor's yard where he knew two huge huskies, Vivian and new (but big!) puppy, Thunder, lived.  He must have wanted to play with them and vice-versa, but Magic got his neck broken because they were MUCH bigger and stronger than my two dogs whom he usually played with.  All of my adjacent neighbors cried about Magic's passing, and I never got over it for he was so precious to me.  I wish he'd known that he'd "gotten too big for his britches," as they say! (Magic's original story "
A Black Cat of My Own: Magic the Kitten
" is also on this blog site.)
Beloved Cat, Tristan
As autumn and Halloween approached closer and closer (near the time I'd found and rescued black cat Magic the year before), I only missed and grieved for Magic more and more.  I was grateful for and appreciated my remaining dogs, but the gaping hole in my heart for Magic would just not heal; I missed having a cat so much.  I then decided I would try to adopt another cat again, an indoor cat this time who would be more content to remain safe at home.  That same week, I went to the
Nevada Humane Society in Reno
which is a no-kill shelter and saw over 200 cats!  Naturally, I couldn't help but look for a cat just like Magic (7 pounds), but they were all quite different in looks and personality.  Then in one room, I saw a familiar shade of black and shade of eyes: beautiful green.  With permission, I opened the steel enclosure and reached in to pet and gently pick up a black panther beauty (named Oscar by the shelter) who unshyly leapt into my arms and snuggled into my neck with the loudest purr I'd ever heard.  I then tossed a toy on the floor, and he leapt down to happily play with that, too.  Possibly eleven years old and twelve pounds(!), he was one of the oldest cats there.  I'd only planned to get a cat between two to six years-old so that he or she would be settled down and not as playful to avoid trouble.  However, I felt an immediate bond with him and decided to adopt Oscar that very night (September 21).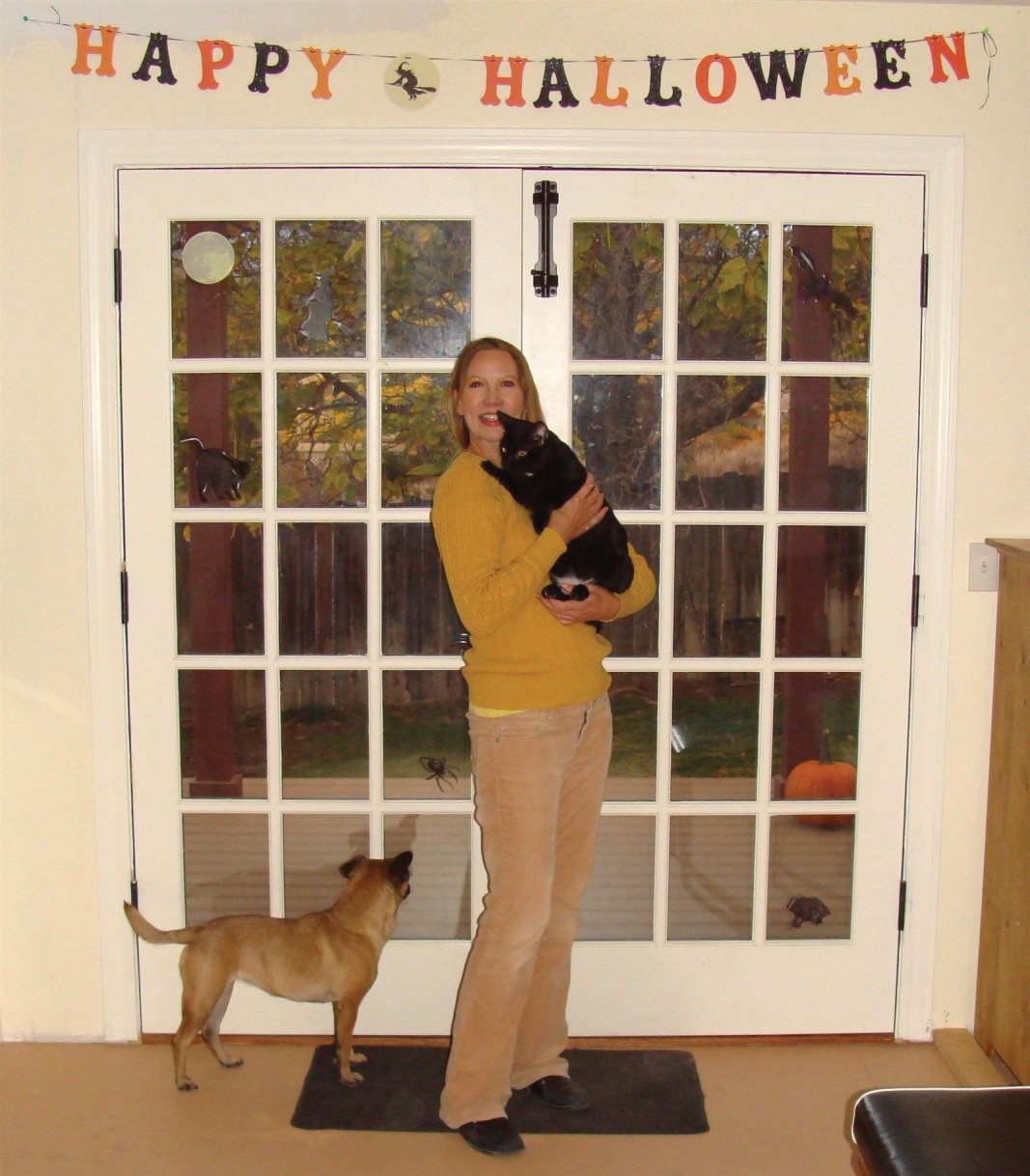 I renamed Oscar with the Celtic name Tristan (and later added appropriate middle name Jinx!), and I am so happy I chose to 'love and love again' despite the risk of heartbreaking loss.  The humane society told me that Tristan had been found about two months earlier outdoors as a stray.  Happily, Tristan loves his new home and, while interested in what's happening outside, he does not try to get outside.  He must have lived indoors most of his life as he knows how to open cupboards, use his cat scratching post, hide in reusable grocery bags, and snuggle under the covers; despite his love of toys, he is fortunately leaving the Christmas tree and ornaments alone!  Tristan is also content to play inside and hang out in the bay windows and by the sliding glass doors where he can watch the birds in the trees, the desert cottontails that sneak in the yard, neighbor dogs Vivian and Thunder, and his own dogs Finn and Keira.  He has gotten out once and led me on a bit of a chase -- ending with his hiding under the deck -- but he came right in when I thought of shaking his favorite cat food. ("He knows which side his bread is buttered on!" Inside, not outside!)  
New Beginnings Make Happier Endings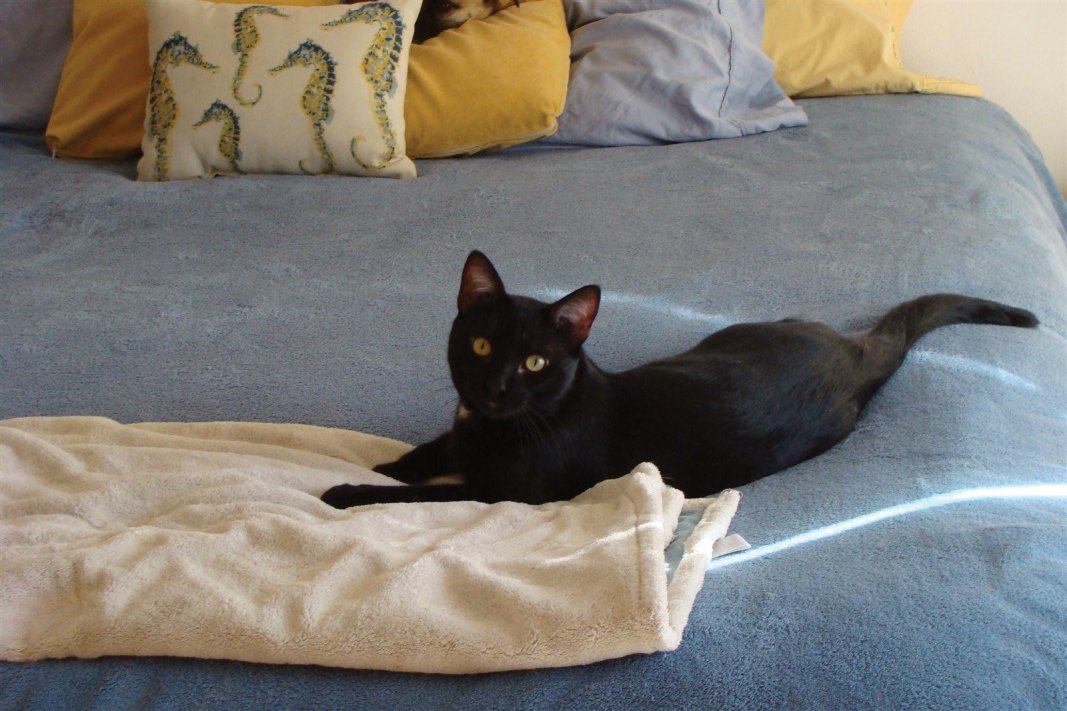 It is now just two months since I have had Tristan, and I believe he is here to stay as long as his body will let him; many years, I hope, as his teeth are in great condition and he is very playful.  Therefore -- every day that I am lucky enough to have him -- I will love him as part of the great chain of life that makes Planet Earth such a special place, and then love the next one whose path serendipitously crosses mine.  Both my parents and I recommend rescuing pets whenever possible at local shelters because they have always been such great treasures found that we would never want to part with.
Petfinder.com
features shelter animals and is a great place to begin one's search (and to also support with donations or gift shopping when one is able).  I even travelled to Texas to adopt my two very special dogs,
Finnan and Keira
, whom I found on that site, and they are priceless to me! One picture is all it takes sometimes for your heart to be moved into immediate action.


Coming soon is my new poem "Mortal Enemy, Immortal Friend" for cat lovers that reveals the former dark side of our relationship with them!  Per my penchant for happy endings, it will end on a positive note.  I will be using the alternating rhyme scheme of an Elizabethan sonnet of 14 lines.
Update 01/15/13:
Our first book cover had a heraldic, traditional look with a parchment paper color to depict the book's intention to be a humorous "defensive treatise" and timeless document for cat lovers.
However, because the book is not a heavy document at all to read and is meant for all ages to enjoy, we have updated the cover to a more modern design that still makes the subject seem classic, but intriguing and fun to read, we hope!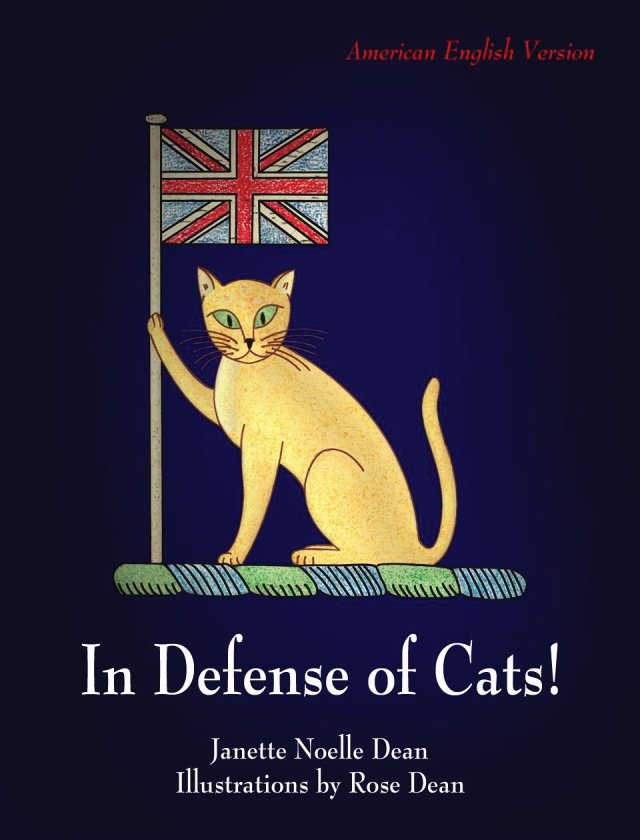 Having defended black cats in my new cat book and thinking of them as Halloween approached, it seems serendipitous that one began appearing in my life this month. 
You see, since moving down the mountain to Carson City, NV from South Lake Tahoe, CA, my partner Peter and I have been learning from wild horse mentors on how to train, ride and bond with rescued mustangs every Sunday.  The organization in Stagecoach, NV is called Least Resistance Training Concepts and they teach
great gentling techniques
. We love all animals, and it's the first time either of us have been able to be around horses so much. 
Well, earlier this month on October 8th, a stray black kitten appeared who, unlike a few of the barn cats in the area, wanted lots of affection and attention.  My friend said he could stay at her ranch with her two barn cats.  He was so cute with a white chest and green eyes that I said 'Tuxedo' would be a cute name for him, but she said there was already a cat named Tucker and that the nicknames Tuck and Tux would be too close.  Just as we were leaving for the day, I said, "I know. We should name him Magic. He seems magical to me, plus it's close to Halloween!" So that was his new name.
Well, imagine my sense of loss when I went back the next Sunday (the 15th) to ride horses and see Magic when I found out that he didn't get along with those cats, and he was gone!  I was heartbroken because I had spent some time with him and even got to name him.  I had shared part of my lunch with him, but he had been so happy just to be cuddled and pet that food was his second worry. 
Poor Magic!  He was just a kitten all alone in the wild where coyotes are just as hungry for a meal as Magic was for human companionship, plus he had an injured tail (probably a horse had stepped on him).  I immediately started looking around the neighborhood of ranches for him and found no sign of him.  After another week of wondering where he was, I again looked and called for him on Sunday the 22nd, but he was nowhere to be found.  Darn, I should have kept him safe when I was given the chance!  I felt so guilty and sad.  But a few hours after getting home, my other friend called and said "I've got your cat!  He's playing in our yard with Amber (a white German Shepherd).  It's lucky the coyotes didn't get him yet."  A sense of relief swept through me - with the heavy feeling of responsibility, too.  My two cat-chasing dogs would just have to learn to accept him as part of the pack and, hopefully, my partner Peter would cave in, too. 
Well, Magic is curled up on my desk next to me right now as I write this happy ending on Halloween eve, so somehow he had the magic to bewitch us all. Good night, Magic, you're the best trick or treat I'll ever have!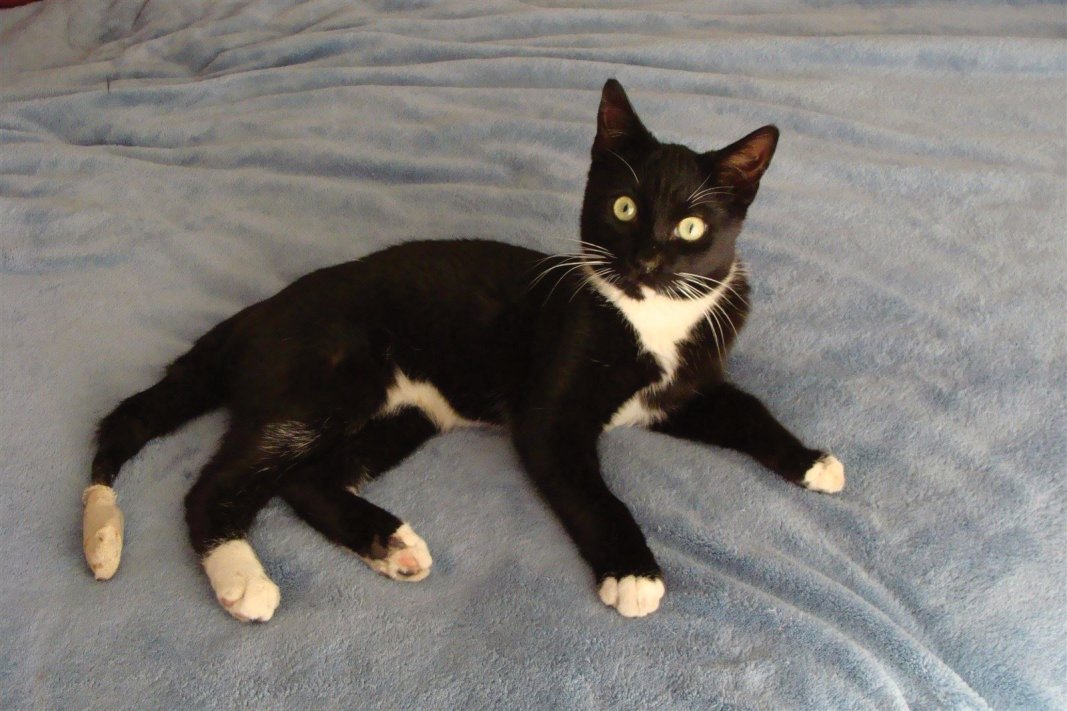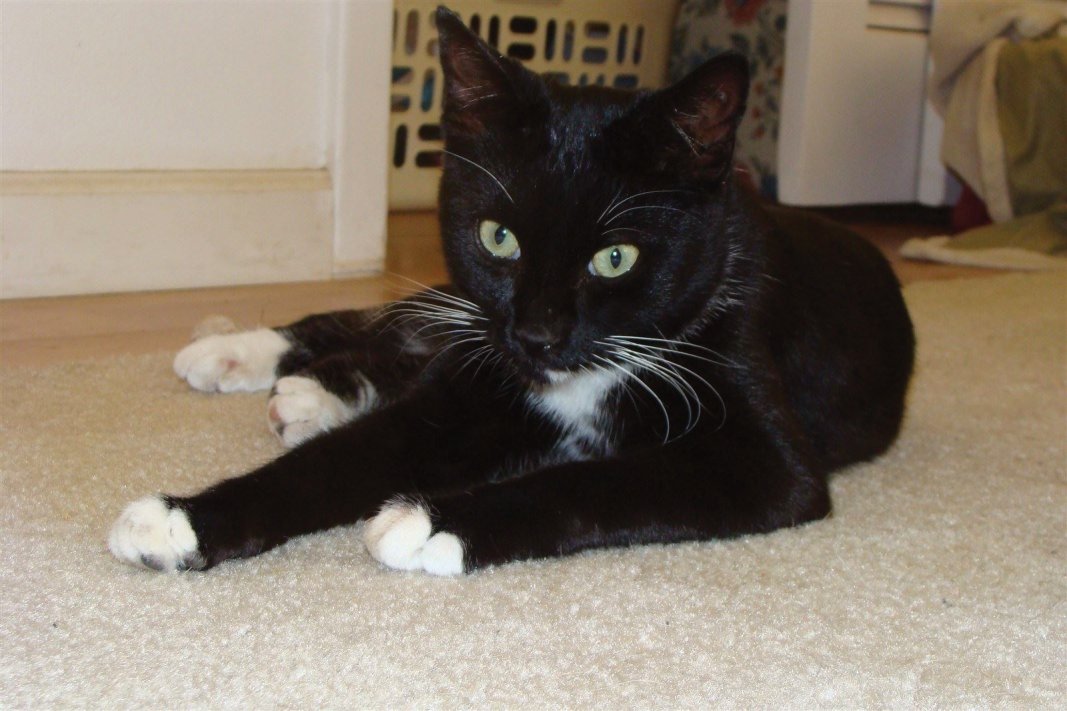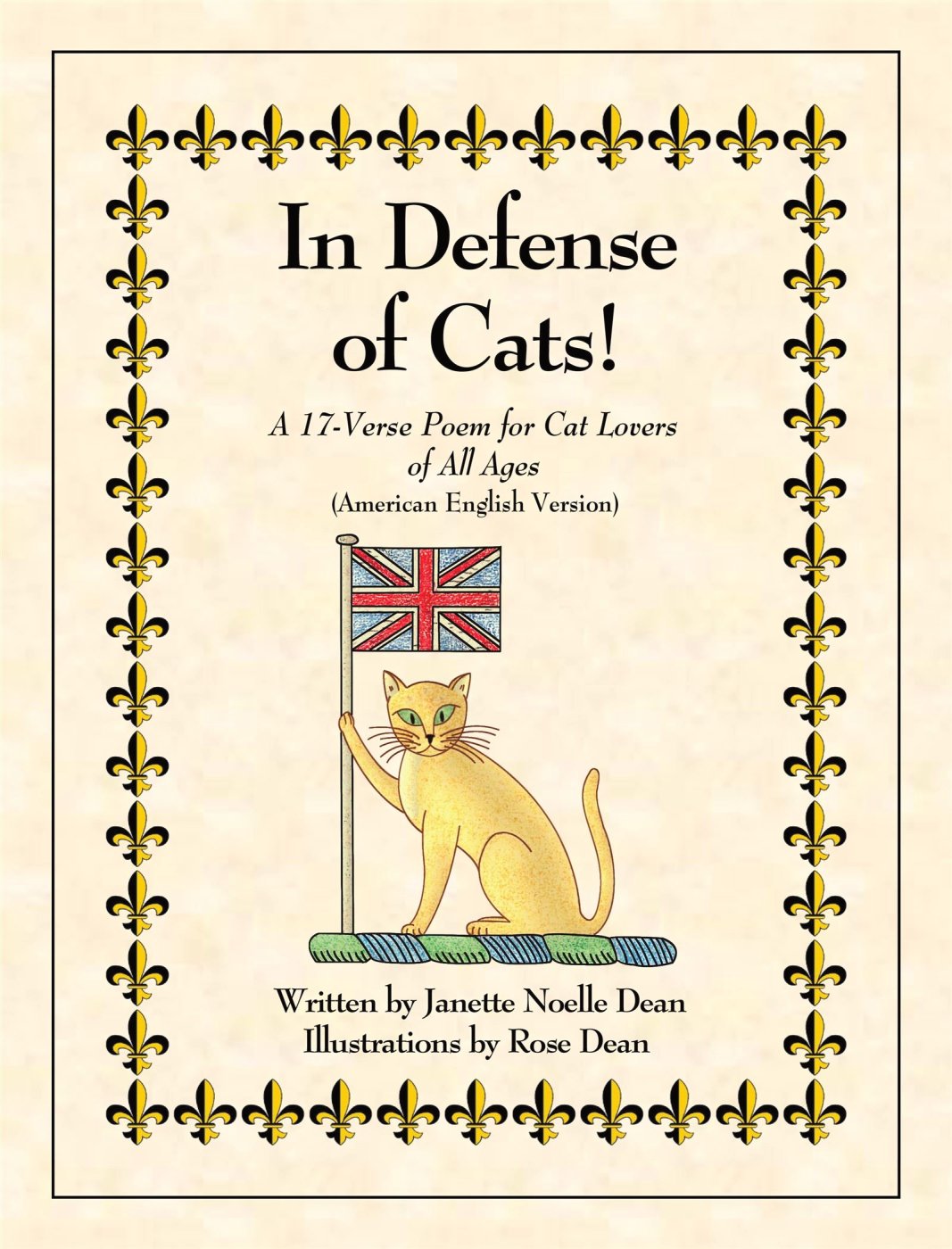 It's been a special day for us as a mother-daughter team to see the fruits of our labor.
Thanks to everyone who read our book, enjoyed it and encouraged us to publish it!
Janette & Rose
Janette built the In Defense of Cats! website today and is looking at ways in which she can also offer it in a British English version because her main character is an English cat.  In Britain, the title would be spelled In Defence of Cats!
British English is also called the Queen's English when a female monarch is reigning. It would be called the King's English when a male monarch is reigning. Britain's current monarch is Queen Elizabeth II (Her Majesty the Queen). The Queen is Head of State of the United Kingdom and 15 other Commonwealth realms.
The American English words used in the book and its' introductions that have British spelling variations (shown in parentheses) are:
defense (defence)
honor (honour)
rumors (rumours)
criticized (criticised)
neighbor (neighbour)
cozy (cosy)
gray (grey)
I certainly want to offer a British English version of the book because Sir William is a British cat although his creators are American.
/