Shopping Cart
Your Cart is Empty
There was an error with PayPal
Click here to try again
Thank you for your business!
You should be receiving an order confirmation from Paypal shortly.
Exit Shopping Cart
The Fun New Cat Book for Cat Lovers:
Beloved Cat, Magic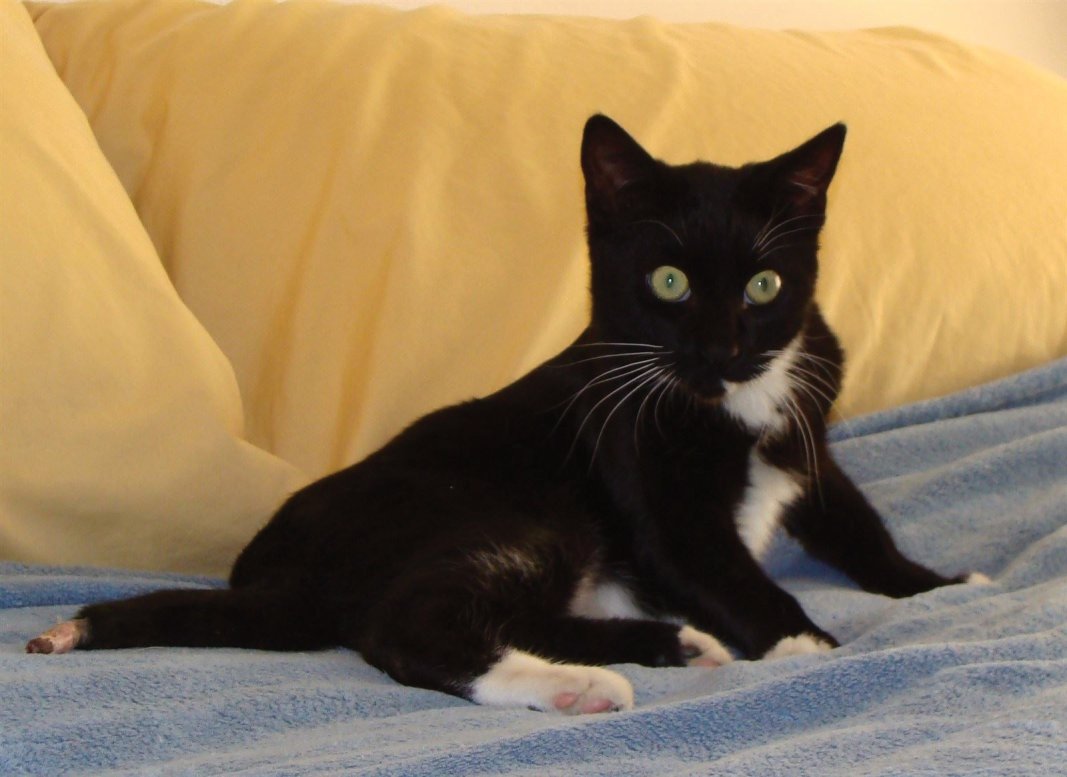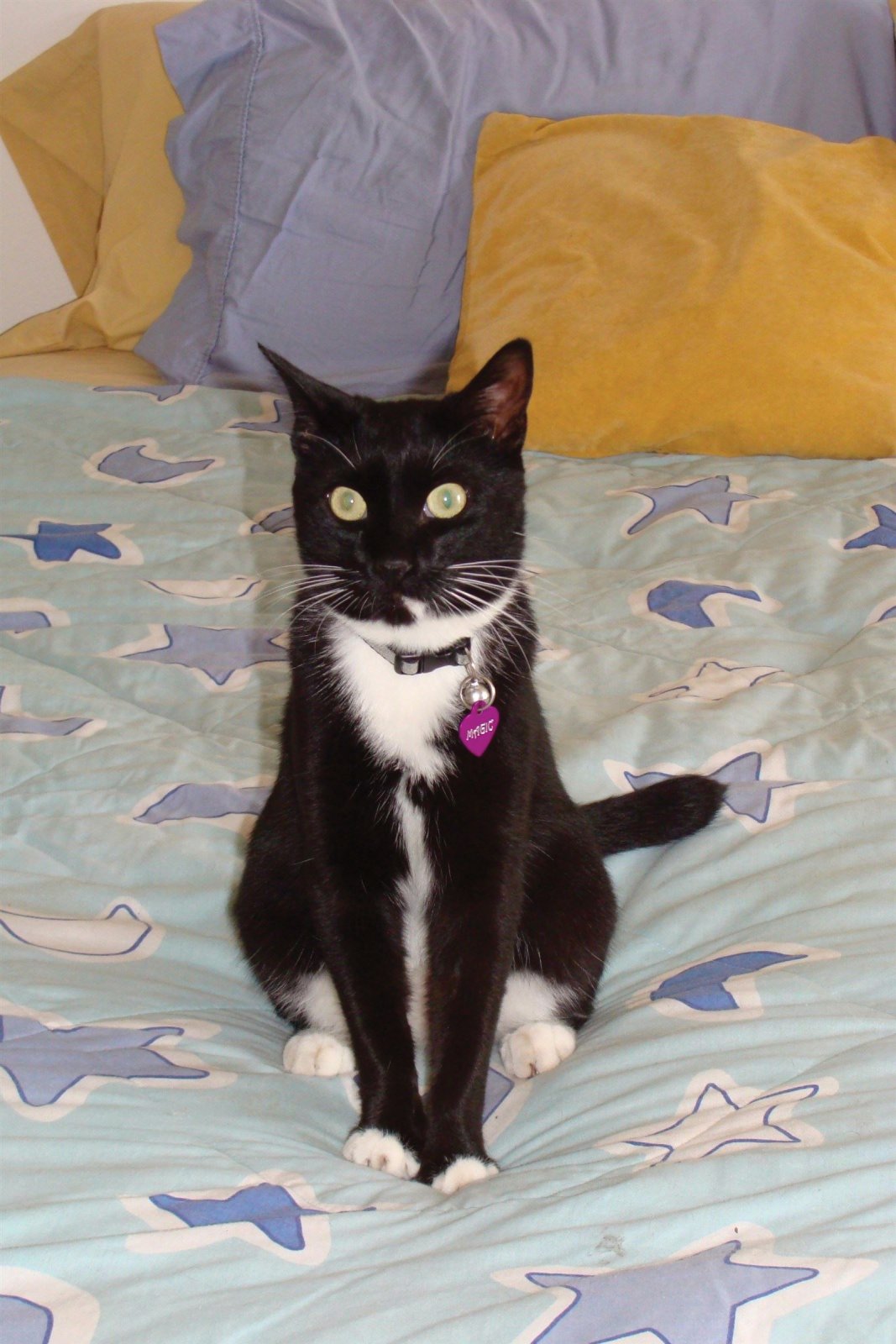 My beloved young cat, Magic, passed on in mid-August 2012. I had adopted him as a feral stray in
October 2011
.  He was such a fun and social cat who loved my two dogs and his new life in Carson City (and inspired my
later tribute to all cats
in his memory).  Much as I tried, Magic would not remain in the house and snuck out fast-as-lightning whenever the dogs were let out or when I went out.  At first, he would stay in the fenced yard with the dogs.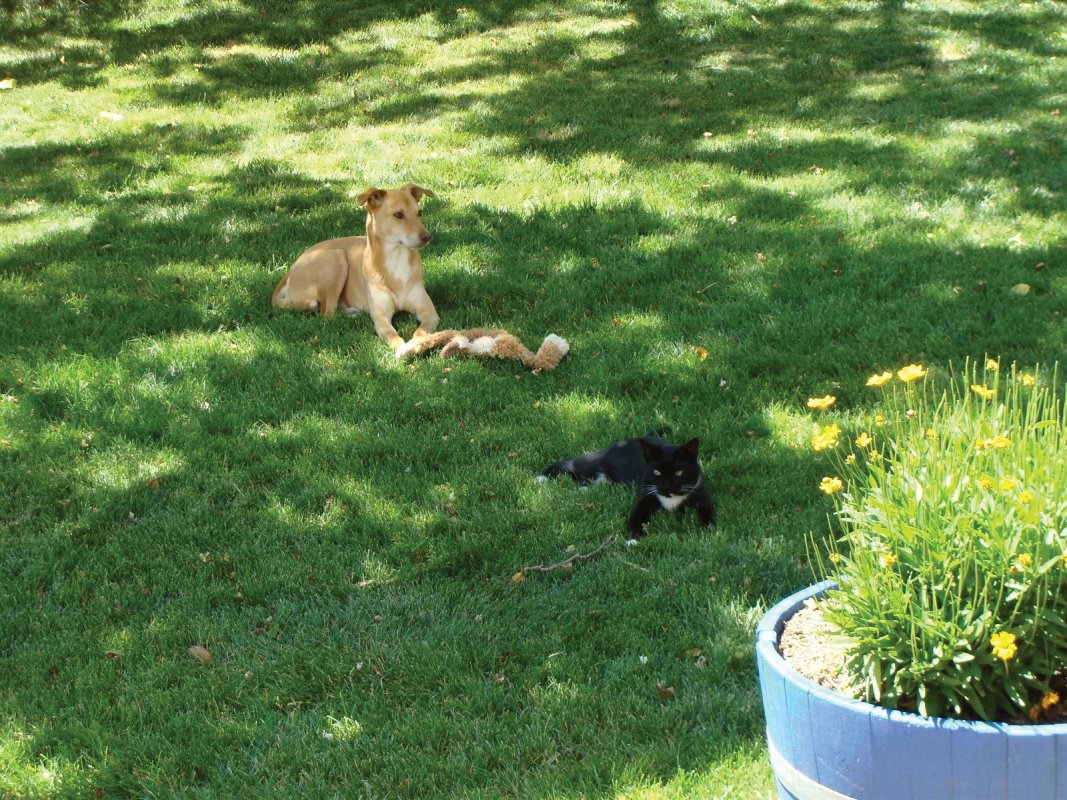 With time however, Magic was soon up on the wooden side fence enjoying his new catwalk. Then, he began starting to walk up the driveway to greet neighbors out walking their dogs who were amazed at his friendliness toward them and their dogs.  I worried, though, that he would get hit by a car or taken by a coyote with his new roamings so I worked hard to keep him inside.  Unfortunately, he got out again and surprisingly snuck under the wrought iron gate in my wonderful next-door neighbor's yard where he knew two huge huskies, Vivian and new (but big!) puppy, Thunder, lived.  He must have wanted to play with them and vice-versa, but Magic got his neck broken because they were MUCH bigger and stronger than my two dogs whom he usually played with.  All of my adjacent neighbors cried about Magic's passing, and I never got over it for he was so precious to me.  I wish he'd known that he'd "gotten too big for his britches," as they say! (Magic's original story "
A Black Cat of My Own: Magic the Kitten
" is also on this blog site.)
Beloved Cat, Tristan
As autumn and Halloween approached closer and closer (near the time I'd found and rescued black cat Magic the year before), I only missed and grieved for Magic more and more.  I was grateful for and appreciated my remaining dogs, but the gaping hole in my heart for Magic would just not heal; I missed having a cat so much.  I then decided I would try to adopt another cat again, an indoor cat this time who would be more content to remain safe at home.  That same week, I went to the
Nevada Humane Society in Reno
which is a no-kill shelter and saw over 200 cats!  Naturally, I couldn't help but look for a cat just like Magic (7 pounds), but they were all quite different in looks and personality.  Then in one room, I saw a familiar shade of black and shade of eyes: beautiful green.  With permission, I opened the steel enclosure and reached in to pet and gently pick up a black panther beauty (named Oscar by the shelter) who unshyly leapt into my arms and snuggled into my neck with the loudest purr I'd ever heard.  I then tossed a toy on the floor, and he leapt down to happily play with that, too.  Possibly eleven years old and twelve pounds(!), he was one of the oldest cats there.  I'd only planned to get a cat between two to six years-old so that he or she would be settled down and not as playful to avoid trouble.  However, I felt an immediate bond with him and decided to adopt Oscar that very night (September 21).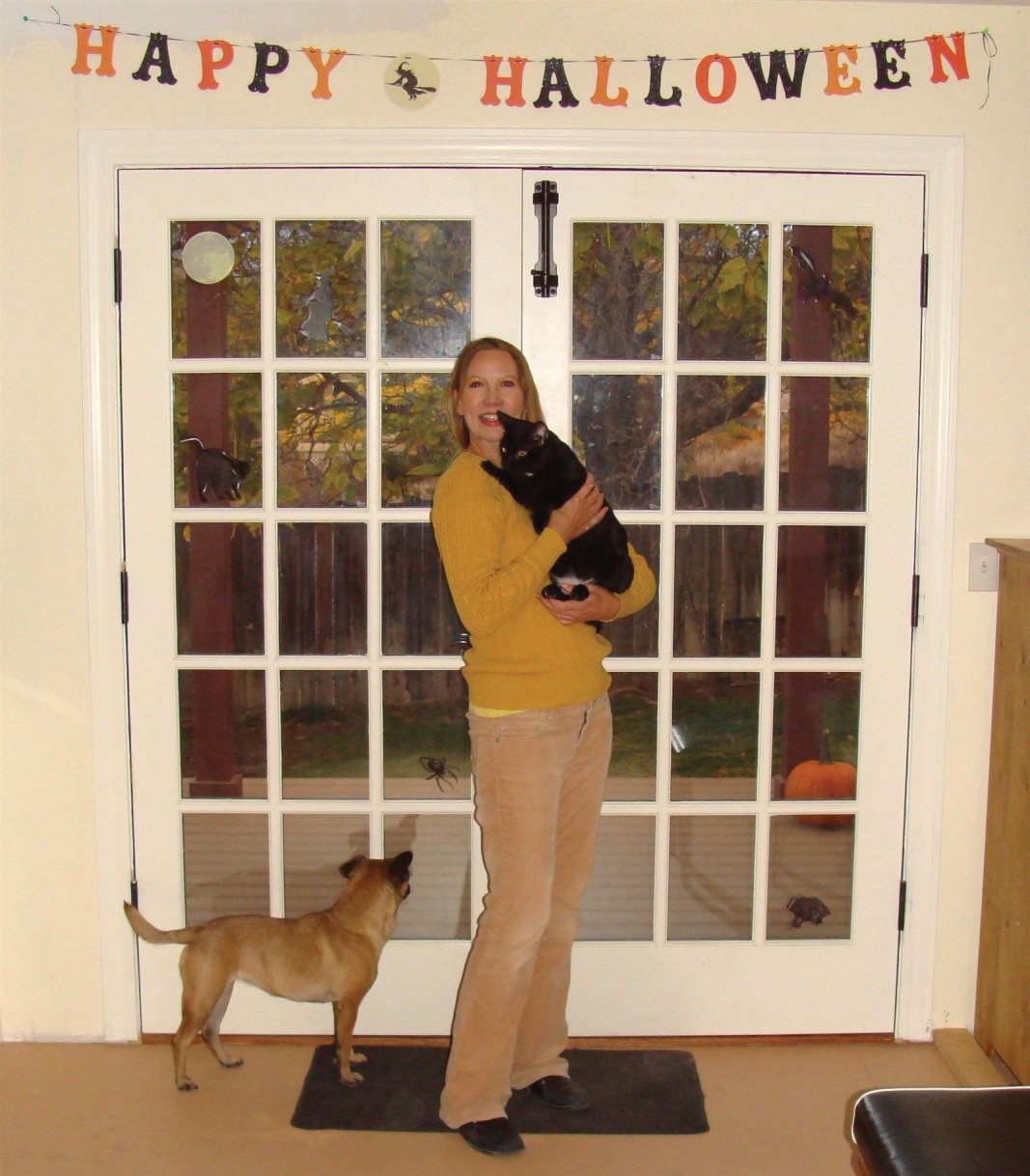 I renamed Oscar with the Celtic name Tristan (and later added appropriate middle name Jinx!), and I am so happy I chose to 'love and love again' despite the risk of heartbreaking loss.  The humane society told me that Tristan had been found about two months earlier outdoors as a stray.  Happily, Tristan loves his new home and, while interested in what's happening outside, he does not try to get outside.  He must have lived indoors most of his life as he knows how to open cupboards, use his cat scratching post, hide in reusable grocery bags, and snuggle under the covers; despite his love of toys, he is fortunately leaving the Christmas tree and ornaments alone!  Tristan is also content to play inside and hang out in the bay windows and by the sliding glass doors where he can watch the birds in the trees, the desert cottontails that sneak in the yard, neighbor dogs Vivian and Thunder, and his own dogs Finn and Keira.  He has gotten out once and led me on a bit of a chase -- ending with his hiding under the deck -- but he came right in when I thought of shaking his favorite cat food. ("He knows which side his bread is buttered on!" Inside, not outside!)  
New Beginnings Make Happier Endings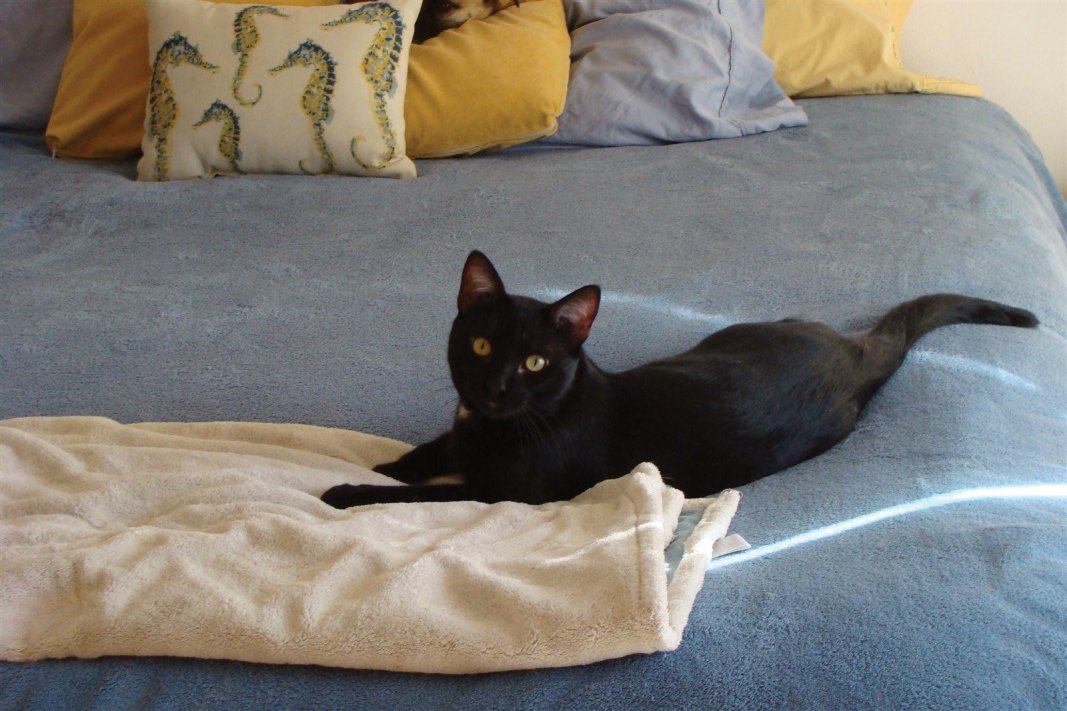 It is now just two months since I have had Tristan, and I believe he is here to stay as long as his body will let him; many years, I hope, as his teeth are in great condition and he is very playful.  Therefore -- every day that I am lucky enough to have him -- I will love him as part of the great chain of life that makes Planet Earth such a special place, and then love the next one whose path serendipitously crosses mine.  Both my parents and I recommend rescuing pets whenever possible at local shelters because they have always been such great treasures found that we would never want to part with.
Petfinder.com
features shelter animals and is a great place to begin one's search (and to also support with donations or gift shopping when one is able).  I even travelled to Texas to adopt my two very special dogs,
Finnan and Keira
, whom I found on that site, and they are priceless to me! One picture is all it takes sometimes for your heart to be moved into immediate action.


A few people prefer cats over dogs and vice versa, but I believe most people that have cats and/or dogs are animal lovers in general and adore all creatures great and small.
Over the last five years, I have adopted three wonderful dogs because my previous partner was severely allergic to cats.  One is with him now (Katie), and I now have two new dogs (Finnan and Keira) because it was so hard losing my first dog.  I was asked to write my dog adoption story for the blog "
From Alone to Home
" which promotes and encourages the adoption of homeless animals in shelters.  The complete link is:
/