Shopping Cart
Your Cart is Empty
There was an error with PayPal
Click here to try again
Thank you for your business!
You should be receiving an order confirmation from Paypal shortly.
Exit Shopping Cart
The Fun New Cat Book for Cat Lovers:
Having defended black cats in my new cat book and thinking of them as Halloween approached, it seems serendipitous that one began appearing in my life this month. 
You see, since moving down the mountain to Carson City, NV from South Lake Tahoe, CA, my partner Peter and I have been learning from wild horse mentors on how to train, ride and bond with rescued mustangs every Sunday.  The organization in Stagecoach, NV is called Least Resistance Training Concepts and they teach
great gentling techniques
. We love all animals, and it's the first time either of us have been able to be around horses so much. 
Well, earlier this month on October 8th, a stray black kitten appeared who, unlike a few of the barn cats in the area, wanted lots of affection and attention.  My friend said he could stay at her ranch with her two barn cats.  He was so cute with a white chest and green eyes that I said 'Tuxedo' would be a cute name for him, but she said there was already a cat named Tucker and that the nicknames Tuck and Tux would be too close.  Just as we were leaving for the day, I said, "I know. We should name him Magic. He seems magical to me, plus it's close to Halloween!" So that was his new name.
Well, imagine my sense of loss when I went back the next Sunday (the 15th) to ride horses and see Magic when I found out that he didn't get along with those cats, and he was gone!  I was heartbroken because I had spent some time with him and even got to name him.  I had shared part of my lunch with him, but he had been so happy just to be cuddled and pet that food was his second worry. 
Poor Magic!  He was just a kitten all alone in the wild where coyotes are just as hungry for a meal as Magic was for human companionship, plus he had an injured tail (probably a horse had stepped on him).  I immediately started looking around the neighborhood of ranches for him and found no sign of him.  After another week of wondering where he was, I again looked and called for him on Sunday the 22nd, but he was nowhere to be found.  Darn, I should have kept him safe when I was given the chance!  I felt so guilty and sad.  But a few hours after getting home, my other friend called and said "I've got your cat!  He's playing in our yard with Amber (a white German Shepherd).  It's lucky the coyotes didn't get him yet."  A sense of relief swept through me - with the heavy feeling of responsibility, too.  My two cat-chasing dogs would just have to learn to accept him as part of the pack and, hopefully, my partner Peter would cave in, too. 
Well, Magic is curled up on my desk next to me right now as I write this happy ending on Halloween eve, so somehow he had the magic to bewitch us all. Good night, Magic, you're the best trick or treat I'll ever have!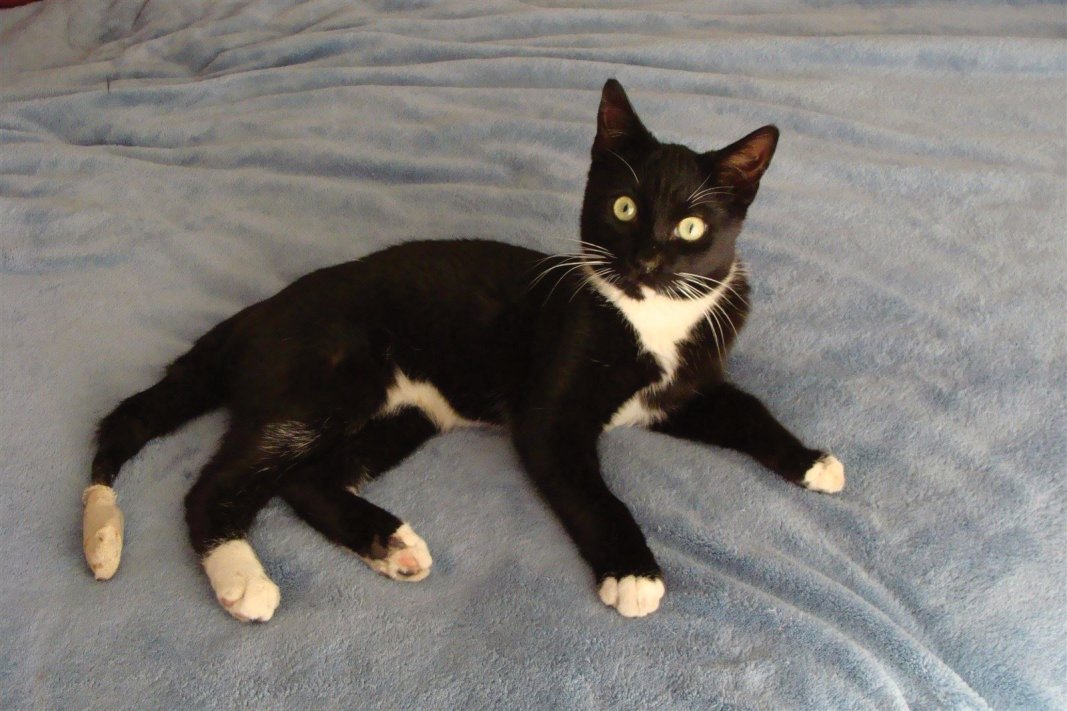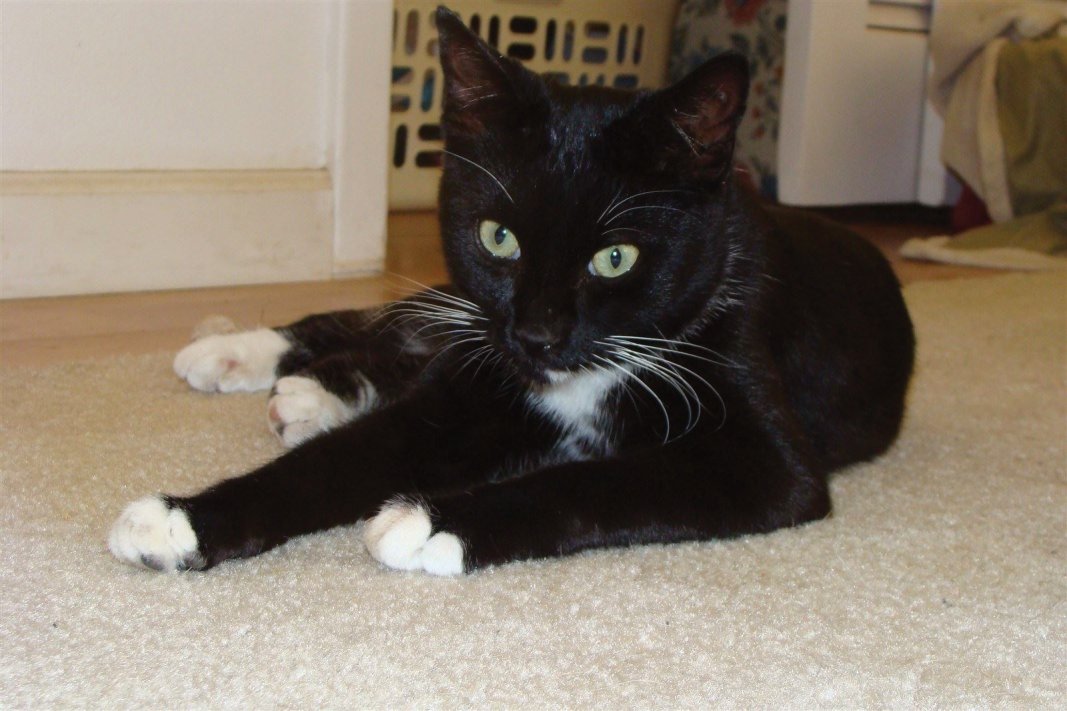 /